Photographs are like sound bites and abridged quotations. They offer a frozen moment in time, and when shown without before and after, can lead to interpretations contrary to what actually happened.
In this case, I'm referring to one of the defining scenes of the Gendo-Shinji relationship: the original abandoning of young(er) Shinji by Gendo, soon after the loss of Yui.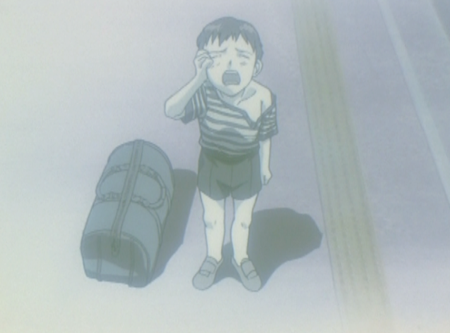 (Note: the complete scene is composed of two shots, only one is shown here. Everyone should be familiar enough with EVA anyways.)
I believe the above scene is one of the major ones that helped established the viewer's initial opinion of Gendo, as it was introduced very early in the series (though a bit later in the span of Rebuild). A father abandoning his young child, and the child crying as a result of losing his last remaining parent. Sad, eh?
However, there's always been the persistent note in the TV series that Shinji bears a measure of accountability in the estrangement. This note is significantly more pronounced in Rebuild: the son estranged the father as well. I think most people attributed Shinji's responsibility in the estrangement simply due to his avoidance of his father, but what if there's more to it? What if he somehow contributed to the original separation (hence the notion within the series that he abandoned his father)?
The simple question is this: Did Shinji start crying as a result of Gendo abandoning him, or
has Shinji been crying for a while (potentially since he witness the loss of Yui)?
Think about it, Shinji has been portrayed as rather emotionally fragile, and only at the beginning of the series has he started to turn over a new leaf and vowed to stop running away. In my mind, that says "cry baby type, big time model".
So, what I'm suggesting is, Shinji had in fact been crying consistently since witnessing the loss of his mother, a traumatic event even for the most emotionally stable of children.
Gendo, model father he ain't, simply could not cope. Given Gendo's severe attachment to Yui and Yui's attachment to her son, it is unlikely he would have abandoned Shinji immediately. However, what minimum parental gestures Gendo could muster was rebuked by a seriously traumatized, essentially inconsolable Shinji. Anything and everything Gendo did, Shinji just responded with more crying.
Result: Gendo sends young Shinji away, and everything plays out from there.
Naturally, much like many issues in EVA, there's no clear cut evidence to lock my theory down. Certainly, what I suggest fits well with the more subtle portions of dialogs of the series regarding father-son estrangement.
I'd therefore argue that given there is no clear indication of just how long Shinji has been crying in the above scene and taken everything else we know about the characters and the story into account, I'd suggest he's been crying for much, much longer than than one scene.
This is not intended suggest that Gendo is any less poor a father or human being, it is merely offered that little more potential nuance to the characters' relationship.
Note: The above analysis does not include the mangaverse in its considerations.