We are really creeping down into the middle of the month now. On with the next wave of Awards!
The themes for today's Awards center around characterization and the personality emitted by our Designs. These Awards include
Best Character
,
Best Fighter
, and
Quirkiest
.
The Award for
Best Character
went to the Design with the most engrossing and interesting personality or story background. The author's attempts to imbue their cold, eerie cyborgs or mysterious, genocidal aliens with a... human touch.
Our
Eva
winner is:
None.
Sorry, another let down! Though Contest vet NemZ managed to pull it off last year, I'm afraid that it's a real challenge trying to place a winner for this Award when it comes to the Eva League. The thing in is, Evas are mainly viewed to be very cold and mechanical - I can't see where one can put a Character in that somewhere. I fear it was bad foresight in allowing this Award to be given to an Eva; perhaps I should have made a substitute. Then again that may be hypocritical of me, considering that I am a huge proponent of making the aforementioned Angels as characters and this Award was created to encourage that.
While I ultimately had to deny the Award, our Judges gave Archaiel's Unit 6.66 the nod as the candidate with the strongest chance of nabbing the Award. However, the short profile was more of a technical manual and didn't seem to scream personality, just suggest it, and the way it fought seemed to speak more of its pilot than its own character.
A Judge who withheld wrote:None of these entries really seems to have an identifiable personality. Maybe 6.66 but since the pilot and mother are so 'in tune' it's impossible to say the way it typically fights has anything to do with the unit itself rather than just the pilot's attitude.
A Judge who voted Unit 6.66 wrote:[This] vote was a tough one - while the Evas all had things going for them in the other category, an actual personality was something they seemed to lack... but in the end, I had to go with Unit 6.66, who was all about attitude and being in your face via its threatening, up close and personal design.
Our
Angel
winner is:
chazthesilencer
with
Huaddaheul: the Angel of Nourishment
Now this is more like it. Chaz seizes the day with his entry written in the first-person perspective of his carrot-like Angel. Chaz's Angels have always had their own personalities and ways of doing things, but this was the first time we've looked into the (bizarre and vacuous) head of one of his characters. What it lacked in word count it made up in sheer effectiveness; it was unique, fast-paced and - dare I say - revolutionary.
Belial got a vote for his ruthless devotion towards destruction and calculating mindset. It was clear from Holy Diver's account that the Angel named after a Devil was was dripping in hate and bile and power. Humans were toys to him and he seems unstoppable. But give me a moment before I explain why he didn't get this.
I felt that Artemisael should have gotten a mention for this Award: an Angel who is, in fact, the "dark" half of Arael, and exists to exorcise its strength in lieu of transforming the world. His profile was as detailed as Belial's; revealing his inner monologs, tactics and motivations. He's an aggressive bastard and is full of personality - but he's not revolutionary:
Up until now, most of us have accepted the idea that Angels being some combination of curious, brutal, and/or violent as the norm - like giant Reis and Kawrous. What chaz has done here is posit the notion that, unlike his outwardly aggressive peers like Belial and Artemisael, Huaddaheul is in fact the norm for Angel attitudes; that Angels are in fact oblivious creatures going about their ways and humans who are so helpless against them are the ones who label them with "evil" adjectives. After all, how does an ant regard the men who walk over them on the side walk?
The guy for chaz's Entry wrote: Fully embracing a child-like personalty and building the entire entry around this persona was extremely effective at demonstrating the personality of this poor misunderstood little fella.
The other for Holy Diver's Entry wrote: On the Angelic route, it was either going to be Belial or Huaddaheul for me, but Belial's manipulative and seemingly pure evil nature won out over Hua's naive, nice guy narrator persona.
The Award for
Best Fighter
was bestowed upon the overall most formidable/well-rounded combatant among all of the Entries. Attention was given to the kinds of weapons and abilities a Design used, its defenses and its skill in combat situations.
Our
Eva
winner is:
Archaiel
with
Evangelion Unit 6.66 LCFL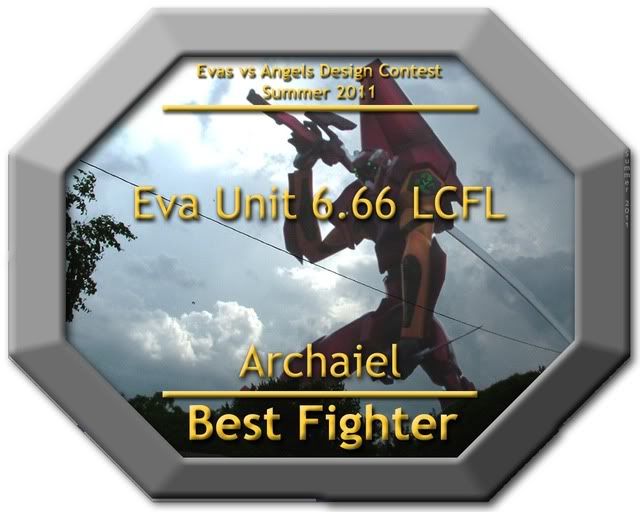 Newcomer Archaiel brings with him work that clearly existed before his entrance into this Contest. What Unit 6.66 brought to the table were a bevvy of advanced technologies, reliable synchronicity, and raw fighting power. The Eva is almost overpowered, save for some compromises in armor; with the kind of arsenal at its pilot's fingertips, I doubt any Angel under an A-class would make him break a sweat.
Of course, tehprognoob's entry should be mentioned. Delivering on his promise to bring more dakka to the Contest, tehprognoob took a standard MP Eva and decked it the hell out with so many missile pods and cannons it looked like it was trying to bundle up for a Siberian winter by wearing artillery. While Unit-05 Alpha's fashion sense was laudable, it wasn't all that practical in real combat against Angels - its own battle against Artemisael was proof that guts and brawn was more effective than tons of human-made ordinance. However, I will give tehprognoob one thing: Unit-05 Alpha would have made a fine support-weapon against the Angel I barely made last year,
Shaitan
- as long as ammo held out anyway.
Unit-07, the Eva specialized for aquatic use, was perhaps the only Eva with the right stuff to work in an environment militaries everywhere consider vital to projecting power. It certainly would have been helpful to fight Gaghiel of all Angels. Then again, how many times would anyone expect to keep fighting in the water other than for Gaghiel?
One Judge who elected Unit 6.66 a lot so far wrote:Unit 6.66 again? Yup. Up close and personal fighter, with a brutal sword, claws, fast reflexes and very agile make him the almost clear contestant. 05 Alpha had some pretty nice combat abilities, too and Unit 07 brought a new way to fight, but in the end, Unit 6.66 for me.
The Other wrote: While the others may be useful in specific circumstances only 05a and 6.66 LCFL seem actually combat worthy. All those missiles and guns may look impressive, but the show tells us very clearly that when it comes to eva-scale battles melee ability usually trumps just about everything.
Our
Angel
winner is:
tehprognoob
with
Artemisael: Angel of the Hunt
Let's be clear: Artemisael is not the strongest Angel around. He's not quite as powerful as some of the other Angels this season or as previous recipients of this Award in the past. By it's own description he has firepower more along the lines of a C-class Angel. But that's not the point; Artemisael is worthy for this Award because he can FIGHT - not demolish, not intimidate, but effectively put damage where it counts and shrug off incoming damage in reasonable levels. Where most Angels have relied on sheer power or special abilities to win victory, Artemisael one of the few I've seen to skillfully utilize his modest armament in ways that multiply his effectiveness. He may have lost his battle in his Scenario, but it was a tough one that was hard fought.
Belial and Gamaliel were rightly deemed formidable as well; Belial being an A-class in disguise boasting powerful abilities, and Gamaliel possessing many brutal and nasty special abilities that could ruin anyone's day. However, these guys were limited in terms of mobility and speed: a weakness that many Angels don't address too much themselves.
One Judge summed it up well when wrote:While NOT the most formidable of the angels presented on paper, I feel Artemisael is nonetheless the best example of a true warrior. It has a sense of style, focus and precision that make it perhaps a much more dangerous opponent overall than the more bluntly powerful angels.
A Judge who voted for Artemisael wrote:On the Angel, my reasons in the Innovation category pretty much are the same reasons for my vote here.

[Yet]

Belial comes a close second, using Lilim themselves to do his dirty work, but isn't enough of a fighter on a physical level...

[Further]

Gamaliel has its rot and time-warping abilities to its advantage, but...
The Award for
Quirkiest
went out to the - oh hell, just read ahead.
Our
Eva
winner is:
chazthesilencer
with
Evangelion Unit: DD
Keep reading!
One unanimous voter wrote: Those arms... it would make such a great little mascot eva if it weren't for that touch of weirdness. Madness! Undeniably quirky though.
Our
Angel
winner is:
chazthesilencer
with
Huaddaheul: the Angel of Nourishment
I'm sorry guys, I didn't want this to happen. I didn't mean for chaz to not only get this Award again, for the third year in a row, but for BOTH Leagues! It's just that, it's, it's... Look at these damn things! A deformed Eva/glass cannon? A happy-go-lucky carrot?! And they are all perfectly plausible?! What's in the damned water in the UK to make a man think of such things?! Can anyone depose the King of Quirk? Someone? I sure as hell can't do it, I have no sense of humor!
Gamaliel obtained a vote for this Award because of his beautifully abstract form, ungainly structure, and unnerving gait. And yet, his profile didn't seem to take this any further into the realm of the strange; being content with being another oddly shaped Angel.
The Judge who voted for both wrote:Seriously, there's no contest on who has the quirkiest Eva and Angel this year (especially the Eva!). I think the awards for this category should go to these two delightfully off-the-wall contenders - a beautifully, hilariously useless Eva with a just as useless weapon; and an Angel that narrates its own contest entry, and has a delightfully wacky design. I wouldn't be surprised if the vote was unanimous in the end, Chaz did that good of a job making them stand out.
The Judge who made a good point for Gamaliel wrote: An appearance much like a Salvador Dali painting gone horribly wrong, an odd but thematically connected suite of abilities, and an origin story that sets it apart from all the other angels as an abomination perhaps even more offensive than the evas? This angel is practically a quirky elemental. Even the way it walks is quirky.
Tomorrow we give the biggest Awards;
Best Scenario
,
Best Symbolism
and
Best In Contest
!