I'd be perfectly happy to host the second round with the same rules and regulations IF you'd like me to do so...
I don't think I should have a proxy to organize the next contest for me for two things:
1. I need to get involved and get in close contact with Designers. This allows me to better collaborate with Designers for possible future projects.
2. Having multiple contests of this sort so soon can be very tiresome and taxing onto Designers. Designers have lives with Jobs and school too. The time in between gives them time to rest and work with real life.
If there is going to be another contest, the judging system should probably be retooled.
I'm inclined to agree. If anyone has any suggestions, I would like to hear them. We need to find a way to effectively award those who are deserving of praise. Until then...
The Awards for the Angel Design Contest Summer 2008:
Today we Award the Final two:
The
Award for Best in Contest
went to the Angel that was, overall, the most-well rounded and interesting product in the entire contest. The description of the Angel, design, symbolism and how it compared to all of its rivals were important in determining the best in this contest.
The top nominees for this Award for
Best in Contest
are:
Erikael, the Angel of Nature by Avatar of Dreams
Kushiel, the Rigid One of God by AsukaChan
Uriel, the Angel of Knowledge by TheAyanamiOtaku
And the Winner is:
AsukaChan
for
Kushiel, the Rigid One of God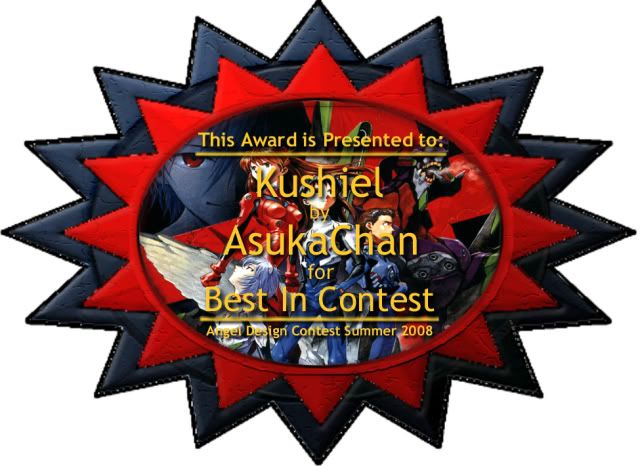 It was a long road, but at last we have crowned a top winner! If any of you have been paying attention to the nominee lists, you would see that it would appear that this contest was nearly dominated by exactly these three top nominees. All these Designs were very well done and were conveyed according to the unique styles of their Designers, and in all honesty, it was a narrow race between them.
AsukaChan's Kushiel came from left field and wowed all of us with its stunning illustrations and totally elegant and unique form. The artistic drawings truly conveyed the Designer's intent and vision; deceptively simple, yet alien and abstract. The weapons and features of the Angel were equally as simple and unique; effective but not too powerful. While not the most characteristically well-defined or the most skilled of our line-up, Kushiel was a very solid and attractive Design.
Do not be fooled by the less number of Awards, because Avatar of Dream's Erikael was a very strong contender. Perhaps in another dimension somewhere, Erikael could have won the Award for Best Character Design and perhaps even this Award. A detailed and enjoyable-to-read body of text was followed by a set of illustrations that not only effectively communicated the composition and detail of the Design, but went further and resembled storyboard sketches for an actual episode of NGE. With inspired design, and features and powers that make it worthy of an even greater class and rank, Erikael was one of best products that anyone could have asked for in this contest.
TheAyanamiOtaku's opus, a very late entry that was in danger of being barred from the contest, was very well worth the wait. Uriel stood as one of the most complete and epic Designs to appear; as a matter of fact it is along the same vein and even rivals many of my own Angel Designs that I have been toiling in R&D for the past four years or so. A very long text description written in a style that was both informative and yet wild was supplemented by a large number of well-drawn and detailed sketches. As one person mentioned, looking at these sketches was like reading the notes of a half-mad scientist who was either trying to design a weapon or studying this creature when it appeared. As it was also observed, said text was daunting in length and its style made the reading somewhat jarring to follow. Further, it would be difficult to implement such a powerful and varied creature into NGE's overall story. Still, TAO's Angel was a surprisingly well-done entry into this contest.
The
Award for the Quirkiest Design
was a late addition to this contest. It was given to the design that came out as being endearingly quirky and interestingly odd.
The top nominees for Quirkiest Design are:
Trasafel, the Angel of Bodies by Hazukari
Jerahmeel, God Pities by devil_eAter
Metatron, the Voice of God by Omegagouki
Dumah, the Angel of Deathly Silence and Vindication by Team New Guys
Kushiel, the Rigid One of God by AsukaChan
And the winner is:
Omegagouki
for
Metatron, the Voice of God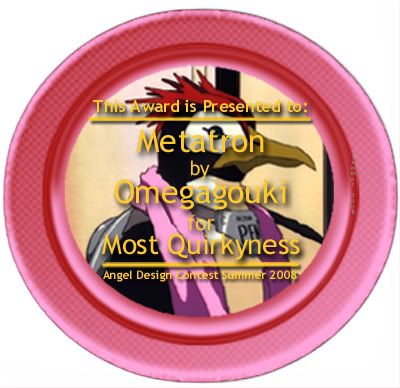 Ok, so Metatron may not have been as epic or as detailed as some of our other big winners. But it gets noted for its bug-like form and dependence on good-old fashioned LAZER (and sonic) weapons rather than anything particularly fancy. It may not live up to the name it borrows from (Metatron is one of the higer-class Angels in the Bible) but the Design gets us for being particularly weird.
Jerahmeel and Kushiel have interesting designs, but for what they are, I think they really fall into the "epic" and "cool" categories than simply "quirky".
Trasafel, while it has a lot of potential for producing a lot of cannon fodder, is notable for being short. Dumah, oh man, had a lot of honorable mentions in this contest and, still, stands as one of the best in the contest. Its form and combat skills are practical and exciting, and has some semblance of a personality as well - and yet no award for all of this!
A name that I'm a bit surprised is not on this list was our first contestant, Jophiel by IrkenEvangelion. That thing took the over-the-top route and was armed with CHAINSAWS for forelimbs. Sure, it doesn't have too many fancy abilities and seems over-ranked for what it does, but then again it can disembowel an opponent with its chainsaw arms. Maybe the resulting exotic and violent deaths of its enemies are what give Jophiel its title as the Angel of Beauty - or something.
Thank you all for your efforts and attention! Stay tuned for some Afterthoughts!