Hi Guys !!!
As some of you know, i'm a huge fan of Sadamoto's Artwork, and i have almost all of his images.
Just a few moments ago i saw an awesome image that i've never saw before, this one: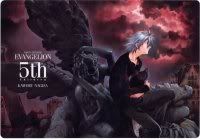 Bigger image here:[url]http://img.photobucket.com/albums/v313/nefilim/KaworuWithCat.jpg[/url]
I opened this topic so anyone else who likes his artwork could post rare images of Sadamoto, maybe from the covers of the Platinum Edition, or the Mangas.