This is intended to begin a discussion, not be the be all end all. This thread is going to be discussing a very controversial and divisive topic. And while I'm always a bit concerned about that. I know in my heart it's nothing to worry about.
Kinda Sorta a Spinoff of the discussion of Hollywood's GITS movie.
I felt a need to talk about this, but didn't want to clog up the thread. Once again, Hollywood has decided that instead of giving a role for a complex, intelligent, Asian woman to an actual Asian Actress, they once again are taking the Easy way out and casting Scarlett Johanson (Of Avengers and Iron Man Fame) in the role of Major Kusanagi.
Here's a graph showing the percentage of roles for white Actors in Hollywood against the percentage of Non-White actors.
By this graph, the only group other than whites who have any kind of Representation in Hollywood. Is Black actors, and while I don't want to downplay the contributions of Will Smith, Denzel Washington, Halle Berry, and Zoe Saldana. Where are their Asian, Latino, and Middle Eastern Counterparts?
Furthermore Why is it every single time a good role for an an Asian actor comes along it's almost ALWAYS given to a white actor?
So why does this happen? Well here's my two cents.
I believe there is a craving, by the American audience for Culture in their movies. If only for exotic appeal. But Hollywood simply put, isn't willing to risk money on an unproven Asian or Asian American actor in the lead role of their summer blockbuster. So Asian actors are at best given supporting roles, and outright excluded at worst. Even from starring in the lead roles of movies and tv shows that so clearly celebrate their cultural heritage.
The American Audience has seen movies about Samurai (
The Last Samurai, 47 Ronin
), Ninjas (
Ninja Turtles
), Giant Robots in Asia (
Pacific Rim, Transformers 4
), Hindu Reincarnation (
Cloud Atlas
), a giant monster that attacks Tokyo (Godzilla 2014), and a future where China Colonized the freaking Solar System! (
Serenity
).
But all of these, while most of them are of good quality and enjoyable films. All have the same issue. They all star white actors in the lead roles, with Asian actors either being reduced to playing supporting roles, extras, or being excluded from the narrative altogether.
This also extends to properties that originally featured Asian Characters (
Edge Of Tomorrow, Dragon Ball
, The upcoming Live Action
Ghost In The Shell
and
Akira
Remakes,
The Last Airbender
), or were set in Asian Culture (
47 Ronin
), or were based on real world Asian people who contributed to society (
21, Come See The Paradise
). Despite the fact that Asian actors, who have history in the cultures these works are based upon, could draw upon those experiences to give us a much better performance than any White American Actor ever could.
"
When is this gonna end!?
At this point, you might as well make a movie about Hiroshima starring Denver!
"
-Kevin Kataoka
And it's not just Asian Actors either! Latino and Middle Eastern Actors get the shaft too!
Star Trek: Into Darkness
had Benedict Cumberbatch playing Khan, a genetically engineered Superman of Indian Sikh descent. In
Batman
Comics, Bane is Latino, Ra's Al Ghul and Talia are Middle Eastern. In Nolans
Dark Knight Trilogy
? They're all played by White People.
Iron Man 3
baited us with Ben Kingsley as a darker more serious version of the Mandarin, and then the plot twist Revealed that Guy Pierce was the real villain and Kingley was an idiot sidekick.
In fact, just a few months ago, there was a huge internet uproar over racism in the Casting of Ridley Scotts
Exodus
. Which was not only a
terrible
adaptation, but cast every role for every Jewish and Egyptian Character with a white person, with the exception of Several Black People playing Nubian Slaves.
All this happened despite the fact that it's been
scientifically proven
real world Jewish People at the time (Roughly 2500 BC) looked nothing like Christian Bale!
In response to complaints, Ridley Scott Stated.
". . . "I can't mount a film of this budget, where I have to rely on tax rebates in Spain, and say that my lead actor is Mohammad so-and-so from such-and-such. I'm just not going to get it financed. So the question doesn't even come up."

-Ridley Scott to Variety Magazine
And there you have it, right from the horses mouth. Studios aren't willing to risk money, because there supposedly aren't any well known actors of Color that could carry a big budget live action Special effects heavy movie and have it return a profit, and as much as I hate to agree with them I'm afraid I have to.
How many Non-white actors can you think of, off the top of your head that you and a friend would go see? Five? Maybe six if you're lucky? Now take away all the Icons of cinema everyone knows like, Jackie Chan, Jet Li, Will Smith, and Denzel Washington.
Not many left huh?
That's a big part of the Issue, a lack of Ethnic Actors that could sell a movie like a Live Action Ghost In The Shell to the masses. There aren't enough well known Asian actors who could carry a movie like this. Even ones with fans and devoted followings. Such as George Takei, Lucy Liu, James Hong, or even Steven Yuen, would not guarantee a movie starring them in the lead would turn a profit.
Hollywood is motivated by money, and given the economy, the big studios simply do not want to risk any of said money on risky gambits. So they stick to tried and true formulas, that guarantee that a movie will not be a flop at the box office. Regrettably, that Formula usually includes white actors in the lead roles, and almost everyone else with a different complexion being excluded.
But before we point fingers, we should all take a moment to recognize that it's not just America who's guilty of miscasting. Bollywood, Japan, China, and Korea have done their fair share of miscasting too. Take Bollywood's
Dear Friend Hitler
it's a deadly serious movie. Starring Indian actors as Nazis. It might seem silly to you, but this is the industry norm overseas.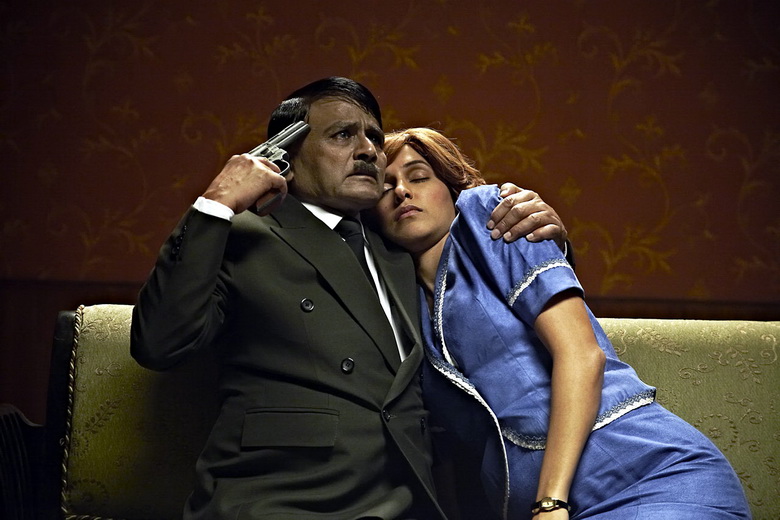 Here's my question. What do you guys think is more important? Complex Roles for Non-White Actors? Or movies that are sure to get funded? And what do we as fans and Hollywood producers have to do to get both?
Edit: changed title