Hoo boy. . . Where do I begin?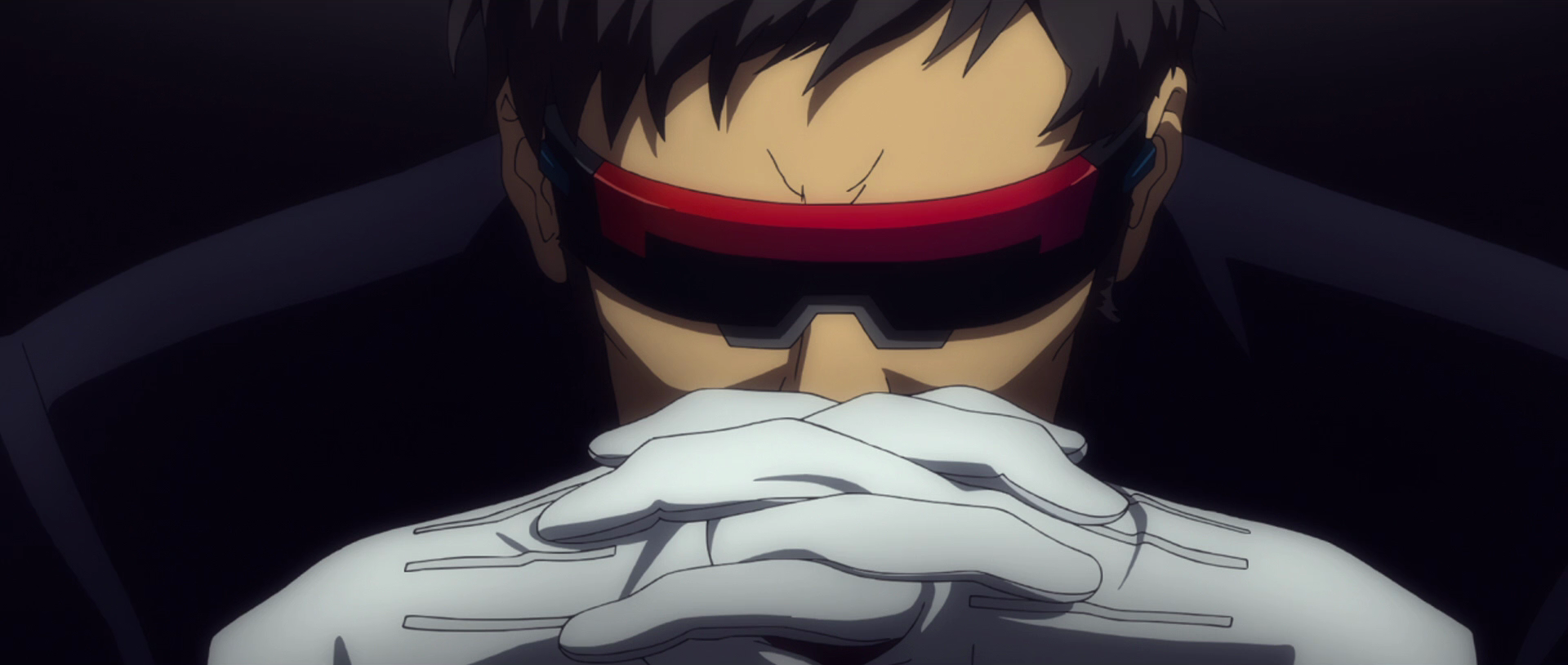 In this time of 3.0, with everyone in the movie being so cold hearted to poor Shinji. It's easy to forget who the real culprit for the planets misfortunes is.
Two Words.
Gendo. Ikari.

I've been quite vocal in my opinion of sheer dislike for the bastard. I hated him in the original series, but in Rebuild he is truly the most despicable bastard I have ever seen in any medium.
Tricking his own son into committing mass genocide. . . . I think it's safe to say that quite a few of us here on Evageeks want to see him get offed, but who will do the deed?
Which character would have the most to gain from his death? Which would be the most thematically poignant? Would letting him live be better or worse?
In this post, the name Gendo and "the bastard" are to be used interchangeably.
Which character would be the most likely to off Gendo? I've whittled it down to four or five likely subjects.

1. Shinji
The most obvious choice, since the Rebuild films are Shinji centric. Given he's lost everything (including the love and trust of his surrogate family) because of his father, was manipulated into causing not one but TWO impacts, having the deaths of billions on his soul, and then being made responsible for the death of the only person who still genuinely cared for him (Kaworu). Shinji only has two people in the world left to blame for his suffering, Gendo and himself. What else does he have left other than hate for his father?
A big thing I felt was missing from EOE was Shinji and Gendo having a face to face final confrontation with each other. It would have been a lot more satisfying (for me at least) to see Shinji get Catharsis through a final confrontation of some sort with Gendo. I hope we get that in Final. I would love as much as anyone to see Shinji finally get revenge on the bastard for taking away his friends, family, and hope for a meaningful life.
However, given Shinji's mental state at the end of 3.0, and the fact that he was not particularly revenge prone in the original series or the previous two Rebuild films. This seems rather unlikely.
He would fight his father if given some kind of recovery period, but actually killing him? Even now after all he's been through that seems unlikely.
2. Rei-Q
In a similar vein to the way Rei betrayed him in EOE. Where Gendo never expected her to develop feelings and free will, she took Adam along with his arm, and gave the power to reshape the world to Shinji. Now, it appears that neither Rei nor Rei Q hold Lilith's soul like in the original series and EOE. So it is extremely likely we will not be getting a repeat of that in Final/4.0.
So how would Rei-Q betraying Gendo work thematically in Final?
I believe that Rei Q developing feelings for Shinji and taking action, to the point of physically killing Gendo either to avenge or defend him would be an excellent and Karmaic way to off Gendo. It could be seen as her equivalent of finding emotion and forging her own path, especially given her origins and existance in the shadow of both Gendo and her predecessor. It would be a good and somewhat ironic counterpoint to the original Rei slapping Shinji for daring to speak against his father, if an Ayanami-type was the one to off Gendo.


3. Misato
She's been fighting a losing war against the bastard for 14 years, he turned Shinji from the boy she loved as a surrogate son, into a pariah for the deaths of billions. Even if she likely will never forgive Shinji for the (unintentional) part he played in his plan (likely brought on by being forced to relive her childhood trauma at N3I), I feel its safe to say she blames Gendo more than Shinji.
Even if the emotional bridge between Shinji and Misato is gone forever, I feel her hatred of Gendo is fueled primarily by what love she has left for Shinji.
Perhaps she kills Gendo in one last genuine act of love for Shinji? In an attempt to atone for her treatment of him in 3.0 leading to Fourth Impact? (I know it's more complicated than that) It could work thematically, one parental figure, eliminating another for the sake of the child. But given it would likely rip away the narrative focus from Shinji, I doubt Misato will be the one to do it.
4. Unit 01/Yui & Rei
It happened before, it could happen again. . . especially given Gendo's plan and motivation do not appear to be all that different from the original series. Gendo still wants to be with Yui again, damn the consequences, and damn anyone who dares get in the way of him being with the only woman who ever loved him again.
The only thing keeping this from happening again is the fact that instrumentality, is likely to be a vastly different scenario from what it was in EOE. Gendo isn't planning to unite everyone into one giant hive mind like he did in NGE. It appears in the Rebuild continuity Gendo is being selfish, he only wants eternity for himself and Yui. Since the Rebuilds obviously focus on Shinji's emotional journey and not on the majority of the other characters. I wouldn't mind if Gendo was bitten in half by Yui/Unit-01 in Final ala what happened in EoE.
However it already happened once. . .so If Anno is planning to have him be rejected again by Yui when instrumentality commences I hope he has a much better plan than a repeat of EOE.
5. Fate Worse Than Death:
This the fate for Gendo I am personally hoping for in Final/4.0 . A fate so horrendous, so despicable, so perfect, that we cannot imagine it until we actually see it in the film.
A few of the best choices.I've seen suggested for Gendo's Fate.
Yui and Rei being pulled from Unit 01 and Reunited with Shinji while Gendo is trapped in Unit 01/ Unit 13 forever as it's sent out into space.
Gendo is turned into a blob of living LCL goo doomed to crawl through the ruins of Tokyo-3 and Nerv Headquarters for the rest of eternity.
Life Imprisonment trapped in a catatonic state like he did to Shinji.
---
How do you think Gendo Ikari should die? Should he die at all? What would you personally want Anno to do to the bastard in Final?