I had the opportunity to play this yesterday at the J-Pop Summit Festival. Essentially it is a mystery simulation game that has the players looking for clues throughout a local environment and solving them, put on by Japanese company SCRAP. No prior knowledge whatsoever of Eva was required but it added to the enjoyment. You can play by yourself but it is best to play with others as a team. This was my first Real Escape Game and I wasn't going to do it at first but figured why not since how many other people around the world get to experience this. The way the game works is that practically everything that you encounter can be a clue and thus you need to keep an open mind to solve the puzzles. However you are also operating under a time limit.
Flyer: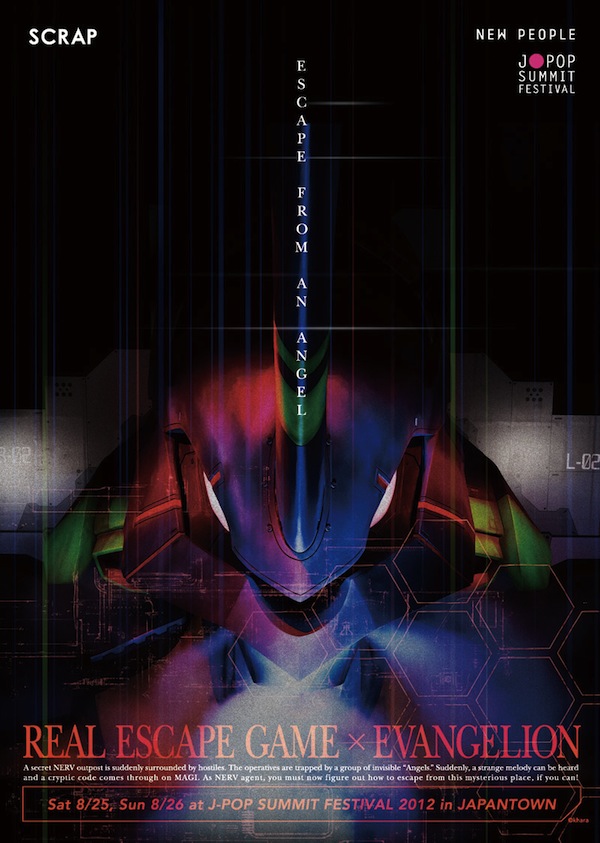 Info:
Event page
and
Official REG website
Tickets: $20 if bought 30 days in advance. This is what I did. $25 if bought 6 hours before the event, $30 on site.
I signed up for the very first iteration of the game at 11 AM on Saturday. 8 games were played on both days for a total of 16. Got in line early outside the New People building and ended up talking to the people behind me. We were all given a blue Nerv ID thingy and an envelope containing our game materials which we were not to open yet. At 11 we were allowed inside and went into the New People theater in the basement for the briefing. Since there was about 10 minutes of waiting I ended up partnering with the folks I had been in line with. Only 1 of us had played an REG before, The Crazy Last Will of Dr. Mad which had occurred the month before in SF.
Finally the briefing video started. This was a voiceover by Misato with English subs. The premise is that the players are new Nerv personnel joining the Nerv SF branch. Suddenly there is an an unexpected Angel attack which threatens Nerv itself and the operatives have to escape. However the escape route plotted by MAGI has gotten scrambled and they need to gather the scattered clues to figure it out. There is a 60 minute time limit while Eva-01 sorties, so the game must be completed within that time period. We were then allowed to open our envelopes to find a map of Japantown, a clue card, and scratch paper before being set off. After an hour we were to reconvene at a predetermined spot for the game resolution.
My team solved the first 4 clues pretty quickly and I was surprised that it had seemed so easy. We then got stuck on solving 2 passcodes for 2 areas but were eventually able to solve these, but were stymied again. However by then it was too late and the time was up. At the debriefing we learned that in addition to the 2 passcodes there were additional elements involving using the Nerv ID to solve a clue and then heading to a final destination that was the end point. Even here the player had to have recalled a prior clue that was given in order to successfully escape. One group got to the end point but hadn't recalled this earlier clue and thus no one completed the game. In other words, everyone technically died.
Despite the difficulty and getting confounded all in all it was a fun experience and I enjoyed the chance to play something Eva themed with some fellow Eva heads. Afterwards we gave our comments to a reporter and as there were people photographing the event, maybe I might end up on the website. I had lunch with my teammates afterwards and we also checked out the
Eva Pop-Up Museum
(
my review here
). Would I play the game again, maybe - it depends on the theme. The upcoming one involves escaping from a treasure ship.