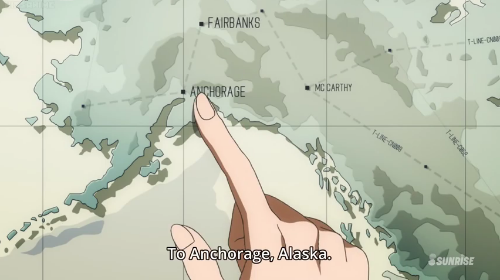 FTR, this is the
first
series in the Franchise and the first in
five
Sunrise mecha productions where Alaska is involved, yet nothing bad happens either to it or the people from there. Instead, we just got scenic railway images from the Point MacKenzie Line.
... and this insanely wrong line:
Y'know, just "worried", not "
outraged
" or "
shocked
" or a "
I don't know who you are anymore
" or even a "
WHAT WILL THE VOTERS THINK?!?
"
Kony 323
Because the thing to be concerned about when it comes to child soldiers is that they *might* not know what they're doing. Not that, y'know, having children fight your
literal
battles is morally repugnant.
Also, dat name:
Lasker Alesi
?!? You hit a brick wall as to "Alaskan" names so hard, that you decided to just break "Alaska" itself in half, and called it a day, didn't you Sunrise?
... Meh, anyway, I have a question: couldn't they just postpone the election in light of the pitched battle happening around the city?
I also have a prediction:
McGillis' plan to "reform" everything is to bring about the singularity, starting with his closest *friends*.