Is there an award for the nerdiest browsers out there?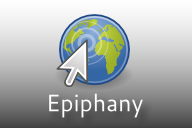 With integrated AdBlock and full HTML5 video support, although it has become a little unstable since the transition from Gecko to Webkit. Too bad I can't get nspluginwrapper to work with the damned 64 bit native flash plugin anymore.
Ornette wrote:Firefox compiled with xulrunner, wifi functions, alsa, and libnotify. The addons that I use are keyconfig, perapera-kun, tineye, ad-block, flash-block, edit cookies, and faviconize tab. Since xulrunner, flash has never crashed Firefox, which is something that used to happen all the time on linux. I usually have the same instance of Firefox running for over a month at a time with no problems.
I wonder why my Firefox always leaks memory like hell. I guess it's due to all those Web Developer/Firebug kind of extensions I keep running all the time (I know, I'm too lazy to use a different profile just for them)