ok, i re-watched the whole series this weekend.
(eh, i had forgotten how... forgettable the jet alone episode is. but whoo! take a drink every time gendo tells fuyutsuki-sensei to "take care of things for him"-- you'll be good and sloshed before Asuka even gets to tokyo-3!)
i am now, as it always happens, thoroughly confused all over again. still, through the befuddled haze that is my brain atm, i managed to pick out my favorite moments. so here you go, pics and everything:
10. "if you must think, do it in german!" / "ok, i'll try: bratwurst, strudel..."
Asuka strikes!
ok, ok, it's very, very silly but everytime i think back to episode 8 i just think about this bit and giggle
such an Asuka thing to say, and such a Shinji thing to do. it was just hilarious

09. "you won't die. i'll protect you."
Rei II
(yeah, yeah, the pic isn't exactly this scene, but it was the closest i could find...)
this is the moment that really defined Rei for me. yes, she would later smile at Shinji and start the upwards curve of character development, but it was this moment, this
line
, that really made me see Rei as more than... someone who was just
there
.
08. Asuka's mind rape
don't be
this scene, mostly the director's cut version of it, is one of the best done scenes in the whole of the series. not only in terms of the script itself but the art, the imagery-- it's truly a glimpse into a broken mind. oh, and every time i hear her say "you won't even hold me!" and then "so
look at me!
" just... good god, it never fails to hit me like a baseball bat to the stomach.
07. Misato's confession to Kaji, Asuka & Shinji's kiss
those women longed for the touch of other's lips, and thus invited their kisses
i know, my image doesn't necessarily match because i was going to have #7 be the whole episode...
truth be told, this episode is just awesome from start to finish. in a sense it's kind of the beginning of the end, isn't it? everything from 16 on is just going downhill.
if i had to choose a moment, though it would be
Misato's confession to Kaji
-- that was just such a hard-hitting conversation, it taught me a lot about both of them not only as a couple but as individuals, as well. it made me understand where Misato's coming from, something i hadn't really thought about until that point.
i was trying to find a screencap from this scene but google fails so hard...
Asuka & Shinji's disastrous kiss is a close second for best scene of the episode-- mainly because the whole "wanna kiss me?"/"but-but whyyyy??" think never fails to make me LMAO
but also because it tells me something about Asuka: she's not only doing these things to tease Shinji... there's a lot more to it than that.
06. unit 01 eats zeruel
introjection
LOL, i just noticed i used the same cap nick used in the first post

episode 19 was, both fortunately and unfortunately, the first complete episode of NGE i ever saw. i say unfortunately because i swear, i had nightmares for weeks-- gosh, the image of unit 01 going on all fours and
pouncing
on zeruel, and then it starts
breaking
and
tearing
and
pulling
and then it just looks up from over its shoulder, big, bright round eyes shining in the dark like some kind of wild animal... well, it's enough to give chills to the bravest person in the world, and i'm certainly not that person. but then it was fortunate that i caught precisely that episode, because it set the tone for what was to come and it was what told me "ok, i
have
to watch this series."
05. "kimochi warui."
one more final: i need you
i just don't think you can get a more perfect ending than EoE. it was soul-crushing yet hopeful at the same time, and it lets you know that no, things aren't alright and they aren't supposed to be alright, but at least you exist, and so you have the chance to try and make it alright. it's not gonna be easy, but it's your choice if you want to take it. that's what i got from that last scene and it's a message that i think is gonna stay with me forever. it's as close to perfection as i can think, at least plot-wise.
04. Asuka vs. the MP evas
love is destructive
from the moment unit 02 emerges from the lake holding up that battleship, to the point she goes berserker and gets lanced, it was the most adrenaline-pumping scene ever. i classify it as one of the best, if not
the
best fight scene
ever
, and that's saying a lot because i usually don't like fight scenes. when she yells that she's got 12000 plates of armor and her AT field protecting her so she
can't lose
, i swear i stood up and cheered.
i still feel like standing up and cheering when i re-watch it. it's just an all-out awesome sequence.
03. unit 01 awakens
love is destructive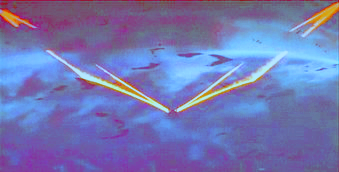 unit 01 bursting out of the pyramid and spreading it's phantasmagoric wings while dark clouds of dust all but howl around it-- HOCRAP, it's satan incarnate.
this image, i think, will forever be seared in my mind. i don't really have words to express how astonished i was by this part.
02. THE pause
the beginning of the end, or "knocking on heaven's door"
over
a
minute.
over
a
FREAKIN' minute.
do you know how many times a person can keep themselves from shaking their TV within that period? too many. in retrospect it kind of makes sense what with the budget cuts and everything, but still... that was the point where i first went (and still go) "ok, this man is a fucking genius." and that was that
01. the whole of episode 21
he was aware that he was still a child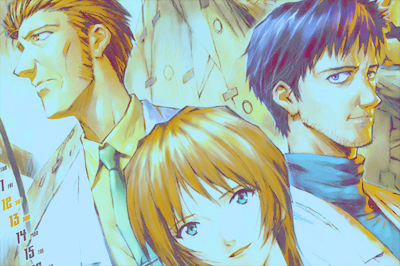 yes, yes, i'm sorry reichu, i fail
episode 21 will always be my favorite episode of the series, and that's mainly for one reason: we got some answers. yes, we got about 800x more questions as well, but hey, at least it's something!
if i have to choose one scene, though-- no, i still can't. i'll narrow it down to
two
:
first, the scene where
yui meets fuyutsuki for the first time
. i don't know what it is about that scene, but i clearly remember that it was the first time i found myself going "okay, there's something freakin' creepy about that woman." this was the first time i actually got to see her and not just everybody else's image of her.
and second-- of course--
Kaji's message
. this is, IMO, the single most heart-wrenching scene i've seen so far in any anime/manga. whenever i remember him going "if i see you again, i'll say the words i couldn't say eight years ago,"
oh
, it just breaks my heart
every. single. time.
and Misato sobbing, and Shinji not being able to do anything for her... as far as themes go, this was "you won't even hold me" multiplied by over 9000.
honorable mentions--
my list of "favorite moments" originally had 17, so these are the ones that didn't make the cut but are still amazing:
_"that's the viewing fee!":
what a memorable way to make an entrance, really. plus i love how the words "Asuka strikes!" appear on title screen in tandem with her slaps
_the sync training:
just hilarious. enough said.
_asuka's plan in episode 11:
very smart. very smart. she wanted to be the leader and she kinda was, wasn't she?
_unit 02 vs. zeruel:
the arms get cut off and blood spurts out... and then off goes the head... i don't like to see Asuka lose but the art was absolutely outstanding here.
_unit 01 rejects the dummy plug:
come on, say it with me, y'all: HAAAAAAAAHAHAHAHAHAHAHAHAHAHAHAAAA! YOU SUCK, GENDO!
_the alternate reality in episode 26:
yeah, i'm a sucker for the fluff. and it was nice to see these kids as they could've been had their lives not been so massively screwed up from the beginning.
and... ok, that's it. i swear.