Around the middle of episode 5 Shinji tries not to touch Rei as she gets her glasses back but ends up on top of her.
After Rei asks "what is it?" Shinji stammers about her new security card. Rei walks off to catch the train to headquarters and arrives at one of the gates -
Rei tries to use her old card to open the gate but it doesn't work - even though Shinji had just told her about her new card. Was Rei even listening to what Shinji said after she asked "what is it?" or did she purposefully ignore him because he was all over the shop in his speech and making the situation worse? - if it's the latter then that implies Rei did care about being in that uncomfortable situation (and just wanted to get away as soon as possible) when nearly everyone uses that scene as proof that she doesn't care about her personal space.
Rei snatches her new card off Shinji - is Rei just being her usual unfriendly self or is she saying to Shinji "why couldn't you have just given me the card like this in the first place?!"
---
At the end of episode 5 Rei watches Shinji get sent out in EVA-01 (why are we shown this?) right into Ramiel's particle beam.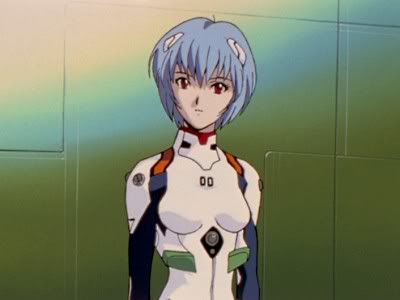 Then in episode 6 while Shinji is recovering she waits next to him with Gendo's glasses on her lap.
- there's a shot of Shinji through Gendo's glasses after this. Is this telling the audience that Rei is already doubting Gendo when he sends his own son out to get fried or something else?