Moderators: New Moderators, Board Staff
Lilin


Age: 24
Posts: 1019
Joined: Apr 01, 2014
Location: The state of Denial
Life can seem a challenge. Life can seem impossible. It's never easy when so much is on the line.
Do you like Eva? Do you like Pokemon? Then check out Neon Genesis Evangelemon-- You Can (Not) Catch 'Em All
thread/16052/Neon-Genesis-Evangelemon/
---
I don't own any Sailor Moon merchandise, sadly. :/
I think all the senshi are pretty dope, but my favorite is Neptune.
Her aloof, almost arrogant demeanor, impeccable style and the fact that she's a Water Senshi is perfect catering to my needs. Also, she's a gorgeous high-class musical prodigy.
2Q||3.33 _ 神殺しを行う
Decadent Stoned Slacker Socialist
---
Lilin


Age: 26
Posts: 1110
Joined: Oct 10, 2013
Location: With Sousuke Sagara.
Gender: Female
So, at the Usagi's birthday party event today in Japan it was announced that Kazuko Tadano from the 90s anime will be the character designer for Crystal season 4. I'm excited and I have been wondering why didn't they do this to begin with.
"Winds in the east, Mist coming in, Like something is brewing, About to begin. Can't put my finger on, What lies in store, But, I feel what's to happen, All happened before..." From Mary Poppins
"For Love and Justice, I'm the pretty sailor suited soldier, Sailor Moon! In the name of the Moon, I will punish you!" Sailor Moon
"Anta Baka?!" Asuka Langley Soryu
"We fall in love, our hearts may break, we lose sleep longing for someone, but that's how we know we're alive." Usagi Tsukino from the Sailor Moon S movie.
"I'm not a nerd, I'm a specialist!!" Sousuke Sagara from Full Metal Panic.
"Trying to make sense of what a cat does is like trying to make sense of what Chuckman posts." - Nuke-kun
http://www.silvermillenniumfalcon.com
---
Marquis Tokpile de Boîtes


Posts: 1182
Joined: Jan 04, 2007
Hilarious cosplay pic
https://cosplay.kotaku.com/new-meme-cos ... 1827440826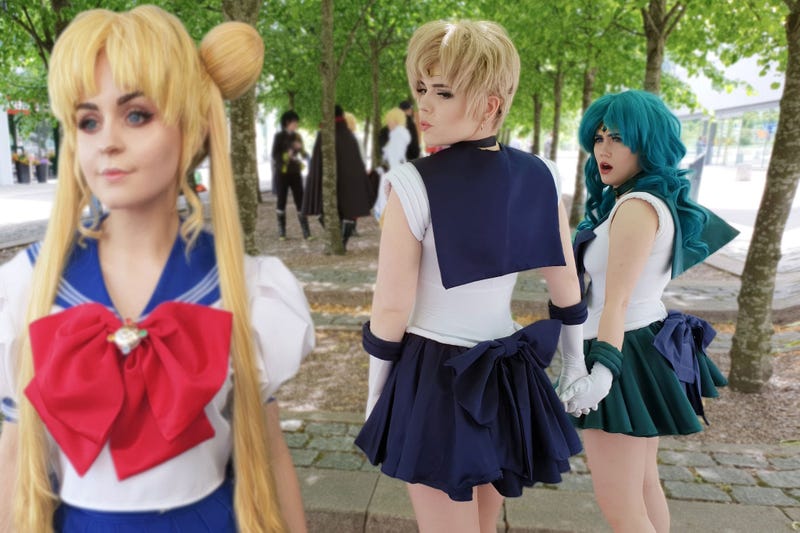 TheEvaMonkey: I HATE BEING A FAT CHICK
---
Lilin


Age: 22
Posts: 1333
Joined: Feb 03, 2013
Location: Germany again, before that Spain
Gender: Male
Contact:
lol, that's good
Shinji: "Sooner or later I'll be betrayed... And they'll leave me. Still... I want to meet them again, because I believe my feelings at that time were real."


Ryuko: "I'm gonna knock ya on your asses!"


-Asuka: THINK IN GERMAN!!! -Shinji: Öh... Baumkuchen...


Hayashida: "As game developers, our work is special. All of us here can put smiles on very many people's faces with our work."


"In any case, it (Kill la Kill) is the greatest work of fiction ever written and should be taught in schools." -Squigsquasher


~('.'~) (~'.')~

Dancin Kirby
---
Lilin


Age: 26
Posts: 1463
Joined: Aug 01, 2016
Location: Being Called to Arms
Gender: Male
Contact:
Tokpile Quohog wrote:Hilarious cosplay pic

https://cosplay.kotaku.com/new-meme-cos ... 1827440826
That is surprisingly accurate.
Avatar -
Heero Yuy
, pilot of
Wing Gundam Zero
. If you want to read my NGE fanfic go to my profile here -
DarkBluePhoenix on FanFiction.net
or
DarkBluePhoenix on AO3
Voted in college to be
Most likely to Take Over the World
, how to do that however, will require
at least
Four Evangelions
. Thanks for the idea Misato-san!
"
Now I am become Death, the destroyer of worlds
." Said at the beginning of the nuclear age by J. Robert Oppenheimer.
"
That which does not kill us makes us stronger
." Words of Wisdom from German Philosopher Friedrich Nietzsche.
---
---
Who is online
Users browsing this forum: No registered users and 5 guests