With all the talk about the practically every other aspect of the franchise, I feel like the weapons used by the Evangelions are somewhat underrepresented. So, in the spirit of overanalyzing every pixel, lets see if the weapons are actually any good if a replica of them was used in by humans in the respective era of warfare.
Knifes/Daggers:
-Unit 01 NGE/NTE: there is literally nothing to complain about either design: Its straightforward, doesnt have any ridiculous angles or spikes, and seems to be rather tough.
-Unit 02 NGE: The idea of having the blade replacable isnt bad, but given that it is used for combat and is put under great stress, I highly doubt that it will hold. If anything, the replacable parts are probably only necessary for the very reason that they exist in the first place, not even taking into consideration that the blade is vibrating.
-Prog. Dagger: While the slot in the middle might pose a bit of an issue regarding stability, I dont see a problem with the overall design of it being a two-bladed dagger, although it might be a bit more useful as a throwing knife compared to the way it is used on-screen
Long weapons:
-Sonic Glaive: from all I can tell it is based off a naginata, which (from personal experience) I can confirm is a very capable weapon. The blade however, is a bit oddly shaped and I fear that this section will get stuck al lot, hindering its overall effectivity
-Smash Hawk: probably the most well-designed battle axe I have seen in a long time. Nothing more needs to be said.
-Ooken/Great Sword/lump of metal: Where do I start with this... no. Just... no. Way too heavy, at least 50% os the weapon - and by that the weight - is completely useless all the time, the handle is a mess and the blade itself is way too massive... I highly doubt you could even
lift
it, let alone fight with it.
-Magorox (Original version): Now THIS is what I call a beautiful weapon. The only things that I have mixed feelings about are the
spiky things
, as they might get stuck on something during cuts or the fact that
the handle is seperated
, but thats probably just personal preference, seeing how the style I am practising works a lot with changing the position of the hands on the handle. The wristguard however is very good
-Magorox (alternative version): While I am not entirely sure if the yellow guard would hol up to much abuse, if I had to pick any melee weapon from Eva to fight with, it would most definitely be this one, given that it takes everything that is good about the first version of the Magorox and eliminates the few bad things.
-Magorox (FINAL preview): Basically the same as the other Magorox, but the wristguard is WAY too huge.
-Bizenosafune: A severe case of "looks both cool and useful, but is actually crap". While the range is vertainly impressive, it is in fact so impressive that "unwieldy" is a nice way to put it, to the point where you would probably better off completely unarmed , because the weight would literally drag you off your feet. Combine that with the fact that even if you were to somehow wield it, when striking, all force comes down to
those two parts
, it is bound to break sooner rather than later
-Counter Sword (Original): Something seriously went wrong when designing this. The handle is obviously meant for two-handed use, but we only ever see it wielded in one hand. On top of that, if you were to actually used it with both hands, given that you obviously cut in
this direction
, your hand would need to be put something like
this
, greatly limiting your options of movement. The blade however is very nice.
-Counter Sword (alternative version): Blade and handle as individual pieces are very well designed, however I fear that
this part
would plain snap the first time it hits anything.
-Dual Saw: What even
is this
abomination. Apart from the obviously ridiculous weights and general unwieldyness, the mere concept of having two chainsaws strapped together to create a striking tool is just plain ridiculous.
-Double-Bladed Spear: Probably very, very difficult to effectively wield, but I have seen people do it, and if you can pull it off, this thing will be a powerful weapon.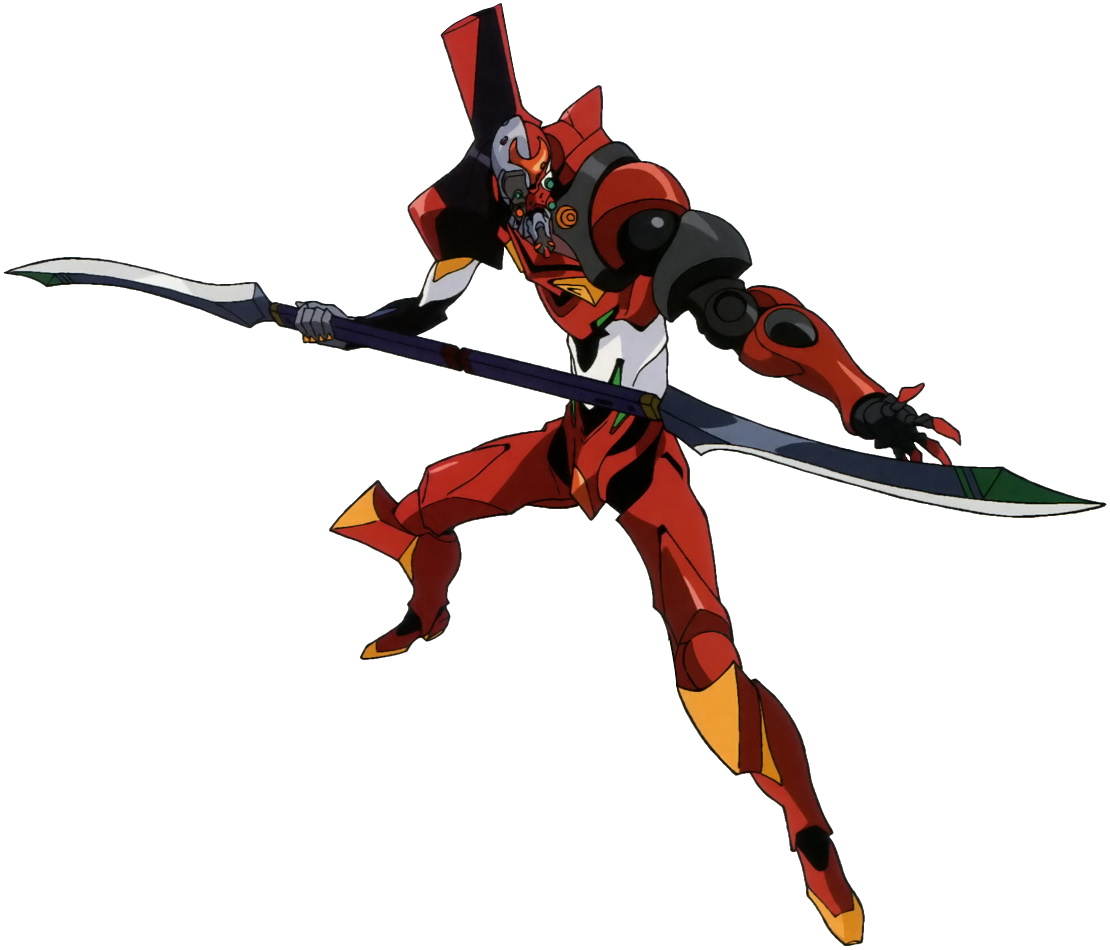 -EURO II's sword and spear: Both are nice and nimble, great weapons even if you cant wield both at a time.
-Thunder Spear: A knife attached to a nonexistent gun. Completely misses the point of a bayonet, might as well take a regular knife. Next.
-Angel Spine (at least I think its called that): To bulky for a ranged weapon, and definitely too bulky for a melee weapon. Next.
-A.W. Mastema: It keeps getting worse... how does one even swing this thing? Next.
-Whatever this thing is: Probably thge worst offender so far. Way too heavy (even without the rocket propulsion!) and will probably shatter the first time it hits anything or is fired (remember people, no weird spiral structures on weapons. There is a reason they arent on any historical weapons). Next.
-Jet Alone Kai's Hammer: To end things on a bright note, this is everything you would expect out of a hammer: Top-heavy, no fancy spikes or anything, and absolutely devastating when it hits.
Ranged Weapons:
-Pallet Rifle: Generally a good design, the only issue I see are the ways of reloading and maintenance. Or rather I dont see tham, which would pose quite a problem in any real combat situation.
-Handgun: Anything modeled after a Deagle is generally a good design. If I had to pick any weapon in a modern-day encounter, it would be this one.
-Gatling Gun: Not sure why
this thing
is there, and the muzzle brakes seem to be not that well thought-through (seeing how they barely stop any air, thereby not really doing their job to reduce the recoil), but other than that a good weapon, even if the ammo drum appears to be a bit small relative to the rate of fire.
-Bazooka: The only issue I see here is the size of the magazines and following that the size of the ammunition, which would probably be pretty underwhelming in both its range and its effect on target
For comparison, the Eva bazooka with its tiny magazine vs a real piece of bazooka ammo SPOILER:
Show
-Sniper Rifle: Again, basic and overall good design. They really did their homework when it comes to ranged weapons.
-Positron Rifle: I shouldnt have said anything. The muzzle looks like a flamethrower, but it lacks fuel tanks, the barrel looks like a sniper rifle, but it lacks a proper scope and and what the hell is that buttstock even supposed to be. Next.
-Positron Sniper Rifle (TV version): Now THIS is a good weapon. Nothing else to say, thats how a non-kinetic sniper rifle should look like.
-Positron Sniper Rifle (Rebuild): Why does a sniper rifle need an ammo drum? Let alone a sniper rifle that doesnt even fire proper ammunition?
-Electromagnetic Crossbow: The design is not bad, but of what use would it be when you can have sniper rifles? Not even talking about the ridiculous weight this thing would probably have.
-Q Sniper Rifle: Apart from the ridiculous size, the double optics and (if the massive muzzle brake and buttstock with an extra grip are anything to go by) the enormous knockback a great design, although it probably is a bit awkward to reload.
So yeah, overall most weapon designs are pretty good, even if there are some that are very much impactical
I'm looking at you, ANIMA